Hotel "De Lita". Away from the hustle and bustle of the city, next to K. Dineika Health Park and just a short walk from other entertainment and supermarkets, the hotel has 39 comfortable rooms: 25 doubles or singles, 8 mini suites and 6 suites. All rooms have Direct dial telephone, satellite TV, free internet access (Wi-Fi), individually controlled heating, shower, hairdryer, deluxe rooms with air conditioning, balcony or terrace.
Prices from: 29 eur/per person.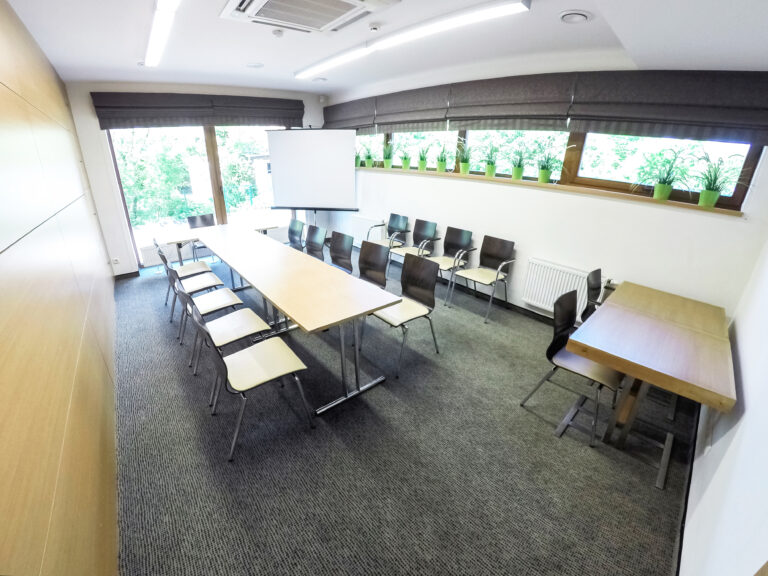 Different layouts for chairs and tables are available in the conference and meeting rooms. The large conference room can accommodate up to 30 people for work or seminars, while the smaller meeting room can comfortably accommodate up to 16 people.
Hotel De Lita's restaurant offers special lunch and dinner menus for groups of up to 10 people. A wide selection of coffee breaks is also available for conference and seminar participants. Lunch (soup, hot dish, table water with fruit); Dinner (salad, hot dish, table water with fruit); Coffee break (coffee / tea, cakes of our production, fruit water, accessories).
For your convenience, the VACUNA Spa Studio is located on the ground floor of the hotel. There is only silence, peace and you. Immerse yourself in an oasis of pleasure where the mind, body and soul rest.
We invite you to enjoy quality facial treatments, pamper your body with spa therapies and massages. Discounts apply for hotel guests.